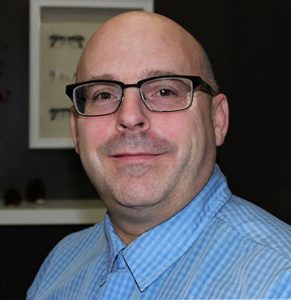 Mr. Raymond Ladouceur, Co-owner/ Optician
Ray Ladouceur attended primary and secondary school in Penetanguishene. He completed his studies in the Ophthalmic Dispenser program at Georgian College in Barrie in 1993. After graduation, Ray began working at the Zellers Vision Centre in North Bay for about a year before transferring to their Sudbury location. In 1996, Ray returned to North Bay and opened his own optical store within Zellers. There, Ray served his clients for 16 years, until May 2012, when he relocated to Eyes on Main. Here he continues to sell a variety of brand-name eye-wear, perform contact lens fittings, and repairs eyeglasses. He strives to provide clients with the best eye care possible and is proud to be cutting lenses on site which provides faster service to his customers.
He enjoys fishing, watching hockey games, reading, and spending time at his cottage.
Ray's goal is to provide the people of North Bay -and surrounding area- with superior eye-wear, and outstanding customer service.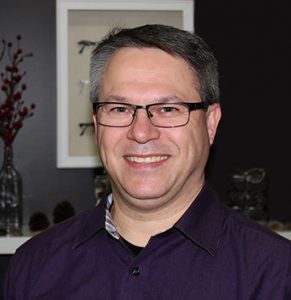 Mr. Patrick Srut, Co-owner/ Optician
Patrick was born and raised in North Bay, Ontario. After receiving a Small Business Management Diploma from Canadore College in 1993, he worked with his family; helping them run their restaurant. In 1995, Patrick decided to return to school at Georgian College in pursuit of his Optician's license. Having graduated with honours in 1997, and obtaining his licensing in 1998, Patrick then moved to Ottawa; where he owned an Optical store from 2002-2009. When he returned to North Bay in 2009, Patrick went back to working optical at a large retailer here in town. In 2011 he met Ray, and they became great friends -which worked to both of their benefit when a new investment opportunity arose in 2014, neither of them could think of a better business partner.
Now as the Co-owner and Operator of the Eyes on Main Callander location, Patrick strives to give our customers the same great services, and prices, they receive in North Bay.
As an avid tennis and baseball player, Patrick has also joined forces with Ray in sponsoring (and playing for) the Eyes on Main baseball team.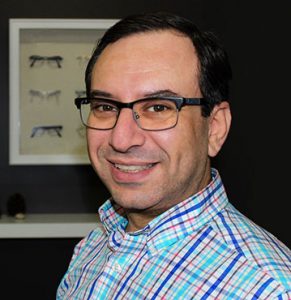 Dr. Joseph George, Optometrist
Dr. Joseph George graduated from Egypt's University of Cairo School of Medicine in 1994. He practiced general medicine for five years before starting his residency in Ophthalmology in 1999. He obtained his Master of Science degree in Ophthalmology at the University of Cairo in 2003. He practiced ophthalmology until he relocated to Canada in 2010; joining The University of Waterloo's School of Optometry in 2011. He graduated shortly after, passed his board exams, and is since, licensed to practice optometry in Ontario.
Dr. Joseph George enjoys seeing patients of all ages, as well as providing information for pre- and post-operative exams for those wishing to have laser corrective eye surgery. He is certified to prescribe medications for conditions such as: eye infection, inflammation and glaucoma.
Dr. Joseph George is married and has a young son. He enjoys going out and spending time with his family.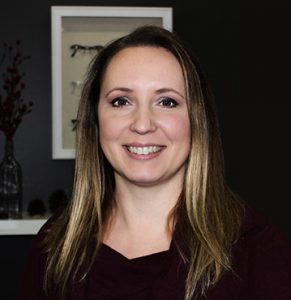 Lucie Fischer-Srut, Office Manager
Lucie was born in Czech Republic; relocating directly to North Bay in 1990. She graduated with honours from the Office Administration program at Canadore College in 2009, then began working at Eyes on Main shortly after. Five years later, Lucie played an integral part in forming the partnership between Ray, and her husband Patrick Srut. Lucie runs the front desk operations; along with possessing the skills to neutralize lenses, operate the visual field screening technology, and take retinal photographs. Her main focus is ensuring the highest level of customer service is met, for both our patients and customers. Lucie handles OHIP and First Nations eye exam billing -for those who qualify.
Lucie enjoys spending time with her two daughters, and painting in her spare time. She also operates the ART IS IN Shop (located at 148 Main St. W. in North Bay) where her paintings are on display for purchase; along with products from other local Artisans.